Ferndene Children and Young People's Centre
A special environment for children and young people to recover.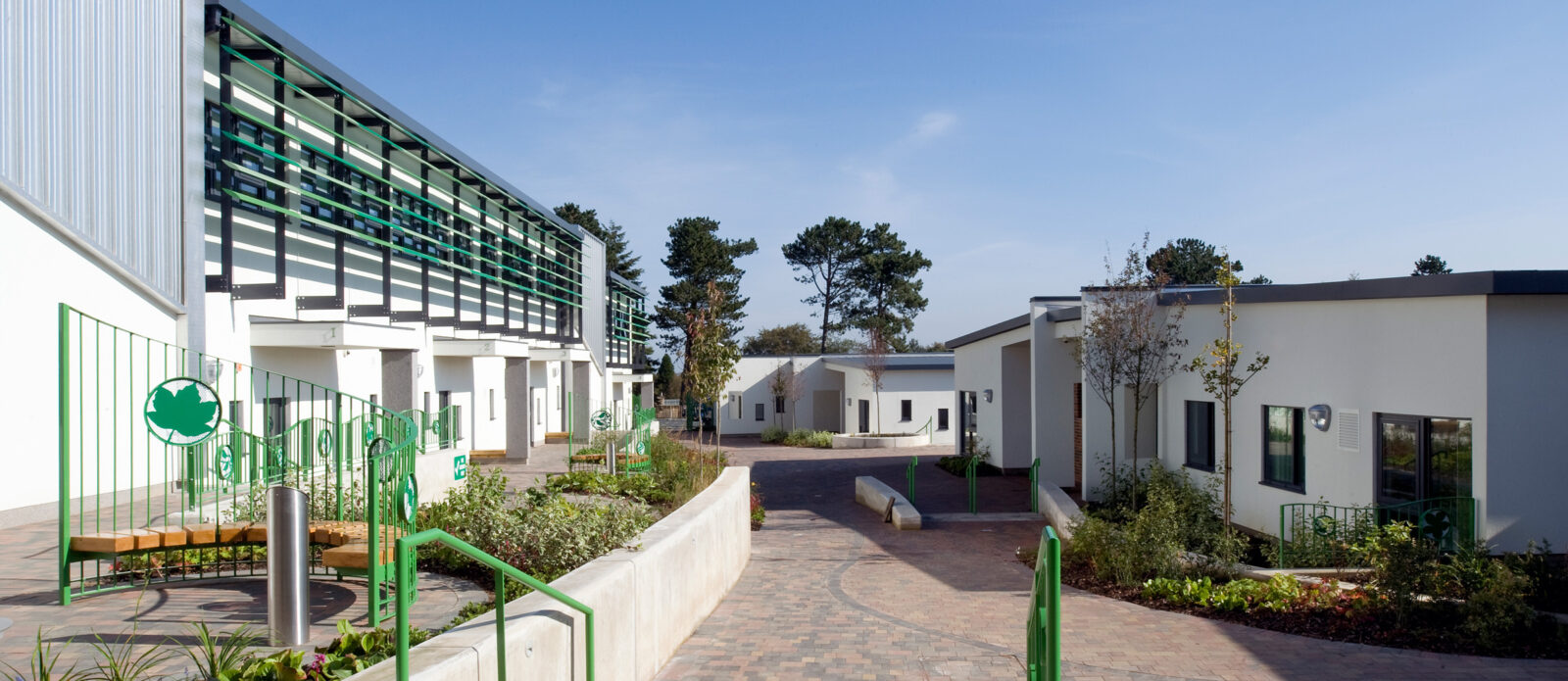 LOCATION:
Prudhoe, Northumberland
CLIENT:
Cumbria, Northumberland, Tyne and Wear NHS Foundation Trust
ROLE:
Lead Consultant, Masterplanner, Architect
Ferndene is the first specialist building in the UK that brings together children and young people's mental health and learning disability services. Developed with input from the young inhabitants, the building responds directly to their needs, cleverly avoiding characteristics of a traditional mental health building whilst providing a safe, therapeutic, and rehabilitative environment. Grafted into mature landscape on the fringe of Northumberland's countryside, the building is arranged to maximise panoramic views to its outstanding natural setting.

01
Listening to the needs of staff and patients
An NHS review of children's mental health services identified a national shortage of appropriate facilities and major gaps in services for children with challenging behaviours. We were commissioned by Northumberland, Tyne and Wear NHS Foundation Trust to create a special integrated environment to support the rehabilitation of its patient groups aged between 4-18 years.
In a far reaching and extensive consultation process, a wide range of workshop techniques were used to generate ideas for the new hospital. Despite being the most challenging, working with the young patients provided fascinating insight, which became integral to the final design. This ensured the building strikes a fine balance between achieving the clinical and operational standards required, whilst fostering an important sense of playful familiarity.
The design and interior provide a homely rather than a clinical environment. The young people told us that they wanted a 'homely' feel rather than somewhere that felt like a hospital.


02
Vibrant interiors with a connection to the outdoors
The building is set out in a clear and logical plan, with light, airy rooms and circulation spaces connecting strongly to outdoor spaces. This is realised as a 'hand' arrangement with fingers of bedroom accommodation spanning out from a central activity building. Courtyard gardens signal the transition from private bed spaces to shared therapy areas. The positioning of living and day space at each fingertip sets up panoramic views over the mature woodland and Northumbrian hills beyond.
Art, poetry, colour and wayfinding form a site wide narrative that arrives in the key public space, informing a vibrant interior scheme which engages with the young occupants, providing the inspiration for imagination and play.
The new wards are really warm in colours and teenage funky and friendly feeling – the reaction from the young people when looking around has been totally 'Wow how cool'.



We are so pleased with Ferndene, it doesn't feel like a hospital and is a wonderful place to work. Fellow staff and young people have literally drawn gasps when visiting and that confirms how well it was designed and conceived. Thank you, thank you, thank you!

03
Environmental design approach to minimise impact
The building's environmental design approach maximises the use of natural daylight and ventilation and minimises the mechanical services traditionally associated with hospital buildings. Photovoltaic panels on the roof of the shared activity building provide a renewable source of energy.
Care was taken in the specification of building materials with reclaimed slate from existing buildings on the site used to clad the exterior of the new buildings and fully recyclable floor finishes used throughout. Measures were also taken to support the ecology and biodiversity of the woodland site with extensive bat lofts and bird boxes provided for local wildlife, and Sedum roofs installed to attract higher levels of flora and fauna.
---
Measures were taken to support the ecology and biodiversity of the woodland site.