Clock View Hospital
Creating a strong community connection to mental health.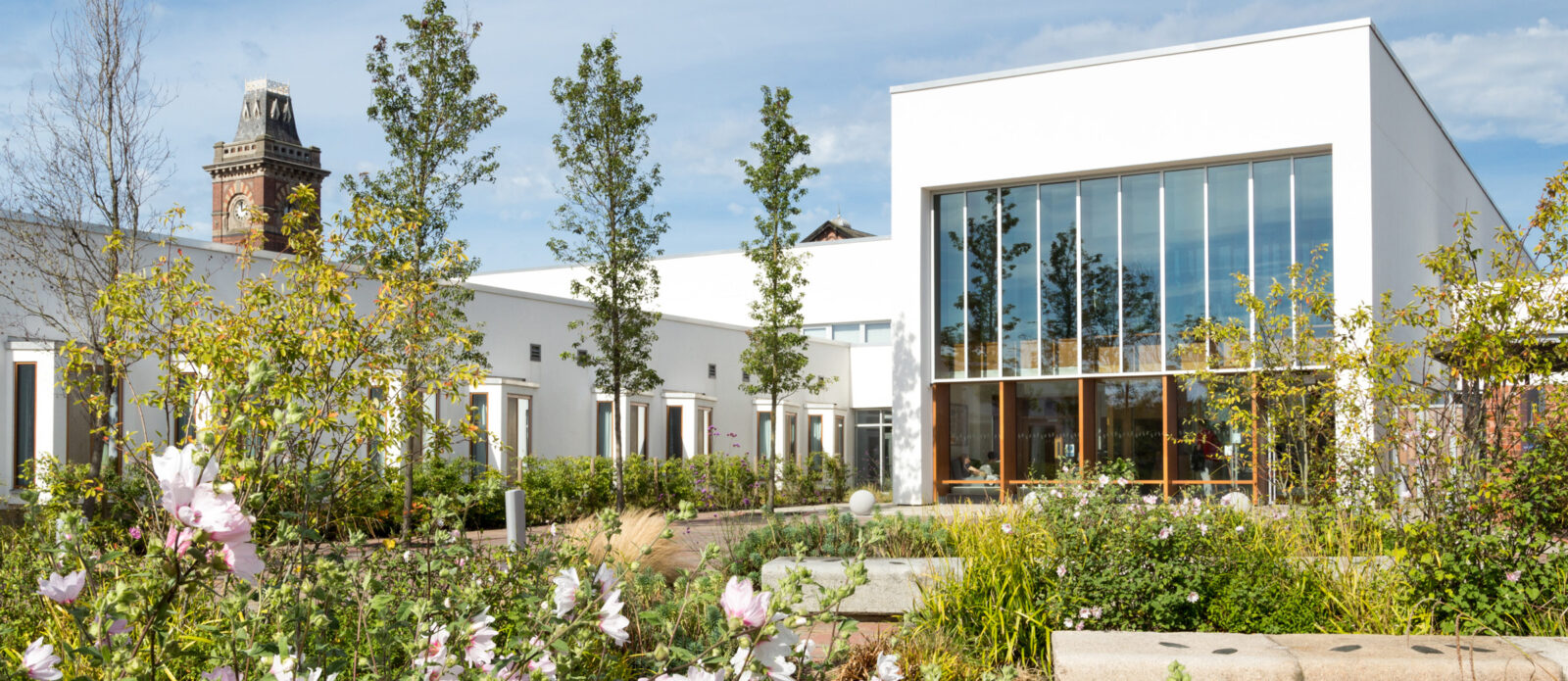 Location:
Walton Hospital, Liverpool
Client:
Liverpool and Sefton Health Partnerships with Mersey Care NHS Trust
Role:
Lead Consultant, Architect
Clock View Hospital has set a new national benchmark in mental health facility design for the quality of its therapeutic environment and the level of engagement with the community it serves. The building presents a positive frontage to the surrounding neighbourhood, creating a strong local connection and projecting a message of openness and inclusivity. The hospital is the culmination of years of long-term strategic planning and business case development with the Trust, to set an aspirational vision for mental health services across the region.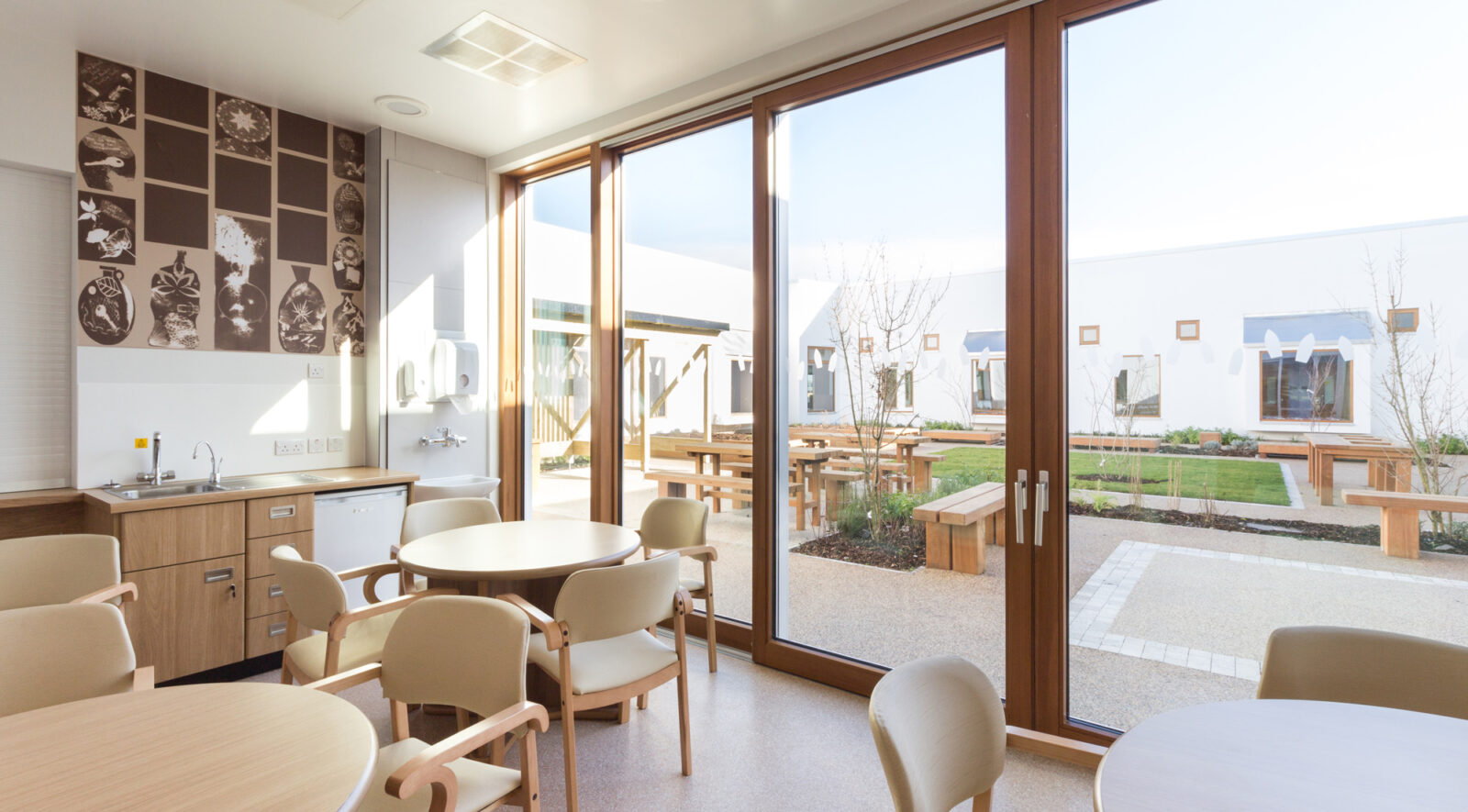 01
Using the healing power of art and nature
Clock View Hospital provides 80 inpatient beds for Adults and Older People Mental Health and Dementia Services within five wards arranged as a series of pavilions in a landscaped setting. This layout provides a familiar, domestic feel to the accommodation, as well as creating a range of semi-private and private/secure open spaces with landscaped ecological gardens, which are visible from throughout the building. Each patient has their own private bedroom with ensuite and 24-hour access to shared therapeutic activity facilities within each ward. Each ward has its own accessible, secure private garden. The interior design features warm colour themes and natural wood finishes which are warm to touch. Staff and patients enjoy a range of integrated art and sculpture which were commissioned through a partnership with Tate Liverpool.
It's about as far from a traditional view of what your pre-conceptions – or misconceptions – of what a mental health unit might be.
02
Building a connection with the community
An extensive user and community engagement process provided valuable local insights and created a strong sense of local ownership. This open dialogue shaped an architecture that is open and closely integrated with its surroundings, connected through a generous entrance landscape. With a clearly stated intention to challenge the stigma often associated with mental illness, the hospital presents a positive frontage with a landmark foyer which is visible and transparent.
The building arrangement and massing protects views of the former Walton Hospital clock tower which overlooks the site, maintaining this much valued local landmark. The facility is also designed to play an important role in attracting NHS staff into mental healthcare by communicating a professional ethos and offering staff an enviable place to work.
We wanted to integrate the outside world with the inside world. The beautiful views are about therapy but also being transparent to the local community. Mental health is nothing to hide and we want them to see what we do.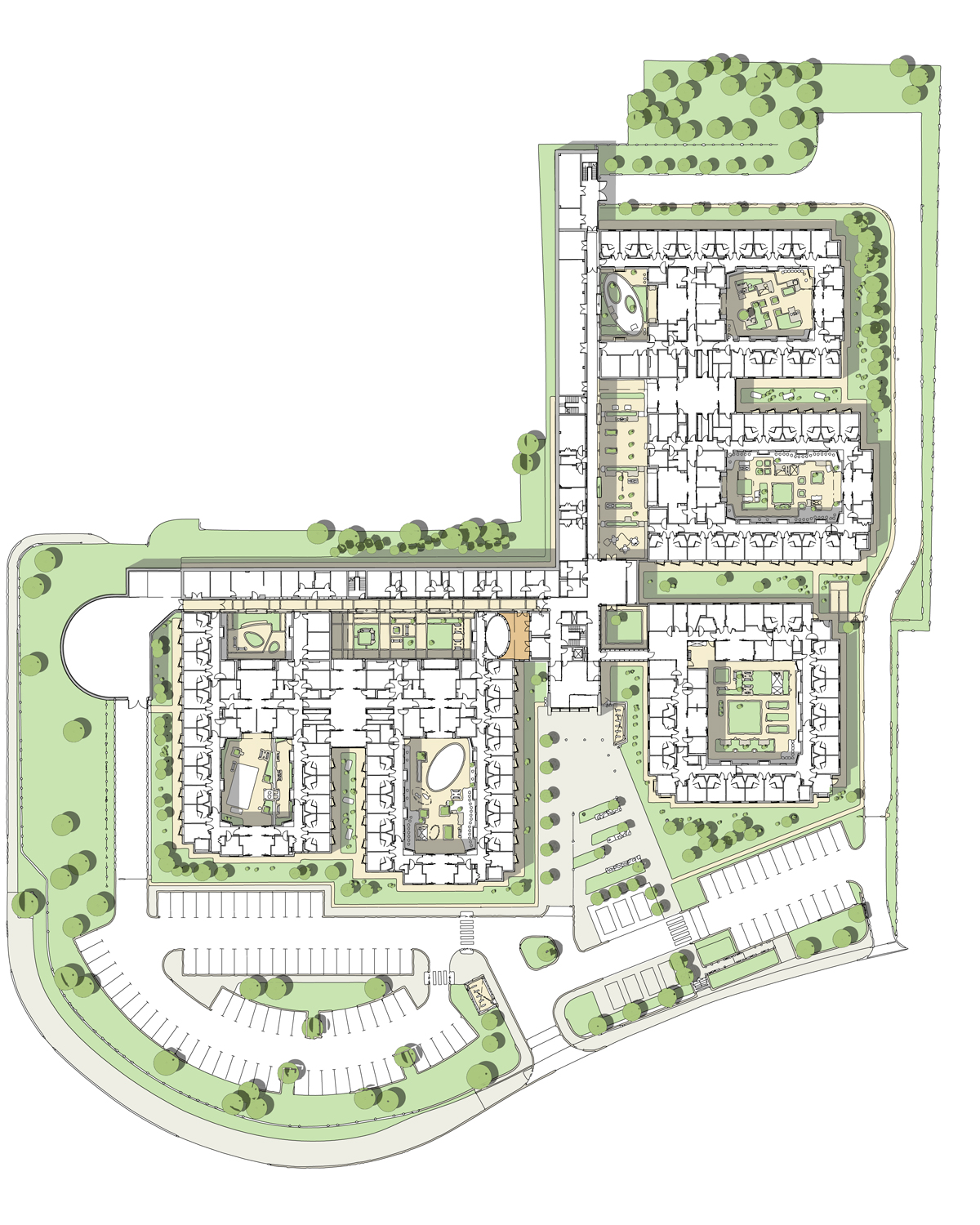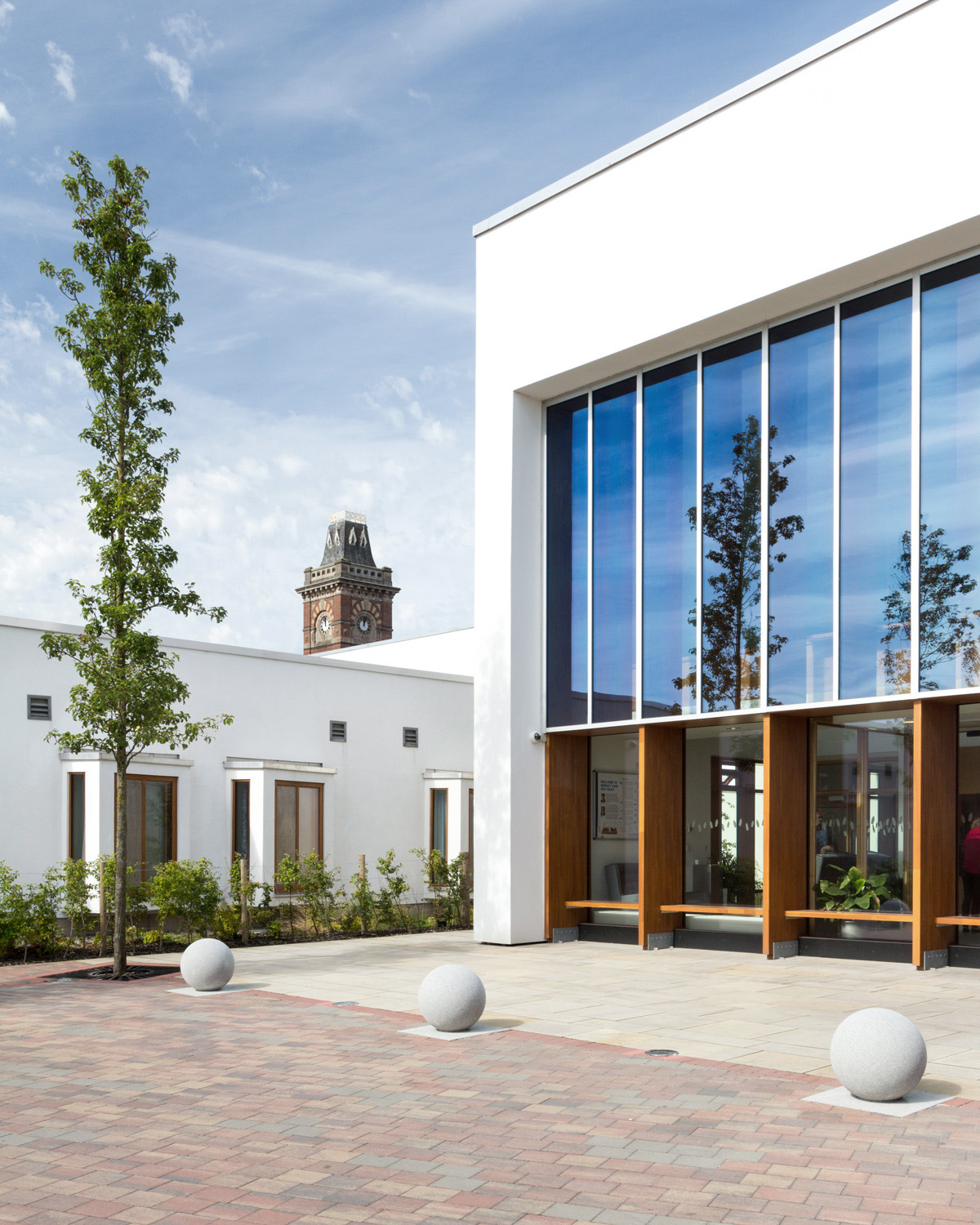 Working with Medical Architecture to understand and achieve our aims they have also interpreted service users and carers' views to ensure a world-class hospital at the forefront of mental healthcare that continues to attract positive feedback nationally and internationally. The result of our close client-architect relationship is a beautiful, healing building that benefits the whole community.
03
Designed to be flexible and adaptable
The pavilion-based building arrangement supports the need for future flexibility and adaptability to respond to changing patient needs and models of care. The single storey wards are render-clad, pre-fabricated, lightweight timber framed structures with walkable flat roofs, accessible for maintenance purposes. These are structurally future-proofed to allow for incremental energy and climate change adaptation and upgrade strategies in the future.
The project's sister project was the subject of a Technology Strategy Board funded case study, exploring ways in which design for future climate could be embedded into projects from the start. Lessons from that 'Edge Lane' case study were directly transferred to Clock View. As a result, the building achieved a BREEAM 'Excellent' rating.
We have a building here that sets the standard for future facilities, where vulnerable service users are comfortable and can be cared for in a therapeutic environment.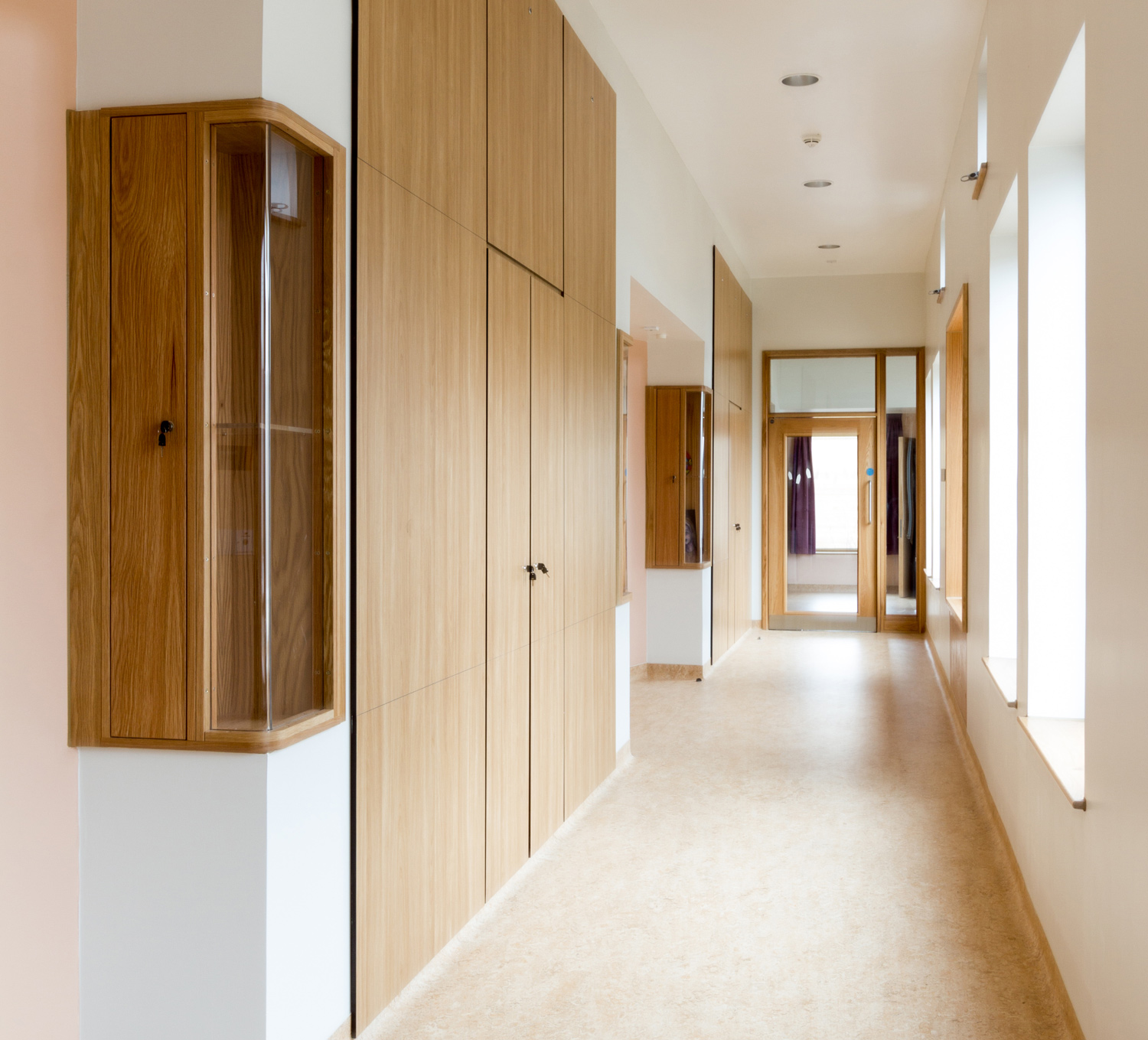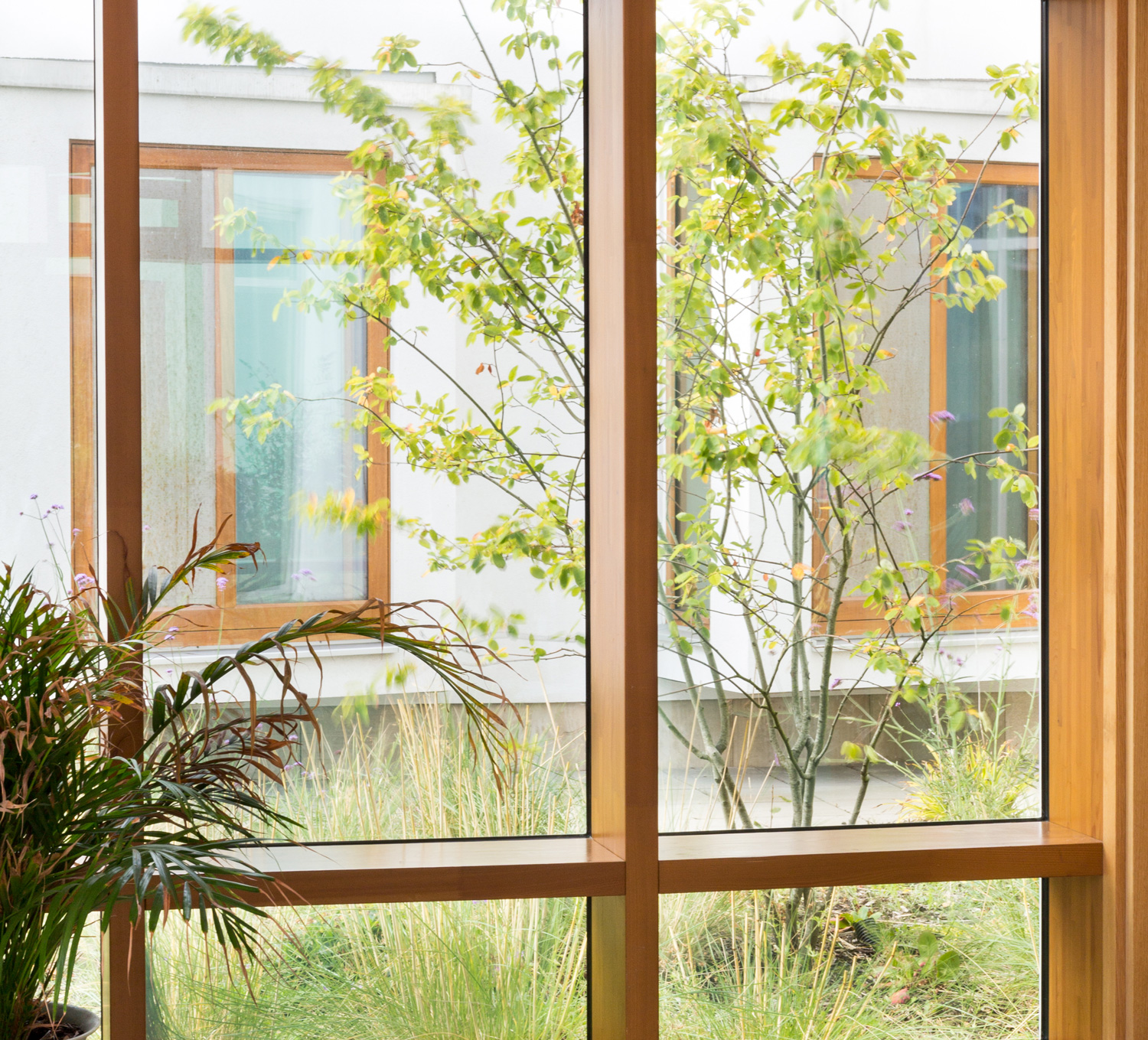 The experience that people coming to Clock View have is bright en-suite bedrooms, artwork, gyms, family rooms, activity spaces, and the food. They all say: 'we value you; we care for you; we are going to help and support your recovery; this is going to be a positive experience for you and your family'.
04
Outcomes
Post occupancy evaluation of the building collected the thoughts of staff and patients on the facilities and their experiences. One respondent remarked that even on a grey, wet July day, the entrance landscape felt like nowhere else they had visited – with a good sense of being in the outside world. It was noted that people appreciate the brightness and light of the building and the access to gardens. The bedroom layout, space and facilities were also liked, including the window seats. A member of staff commented that those working on the wards now feel like they are valued, as they have good quality facilities to work in.
We have fewer costs … far fewer injuries and days off work. Since we opened … people stay for shorter periods of time here and it's a more efficient unit. The cost benefit falls in favour of what we've done.