National Forensic Mental Health Service Hospital
A national step-change in normalised facilities for secure mental health.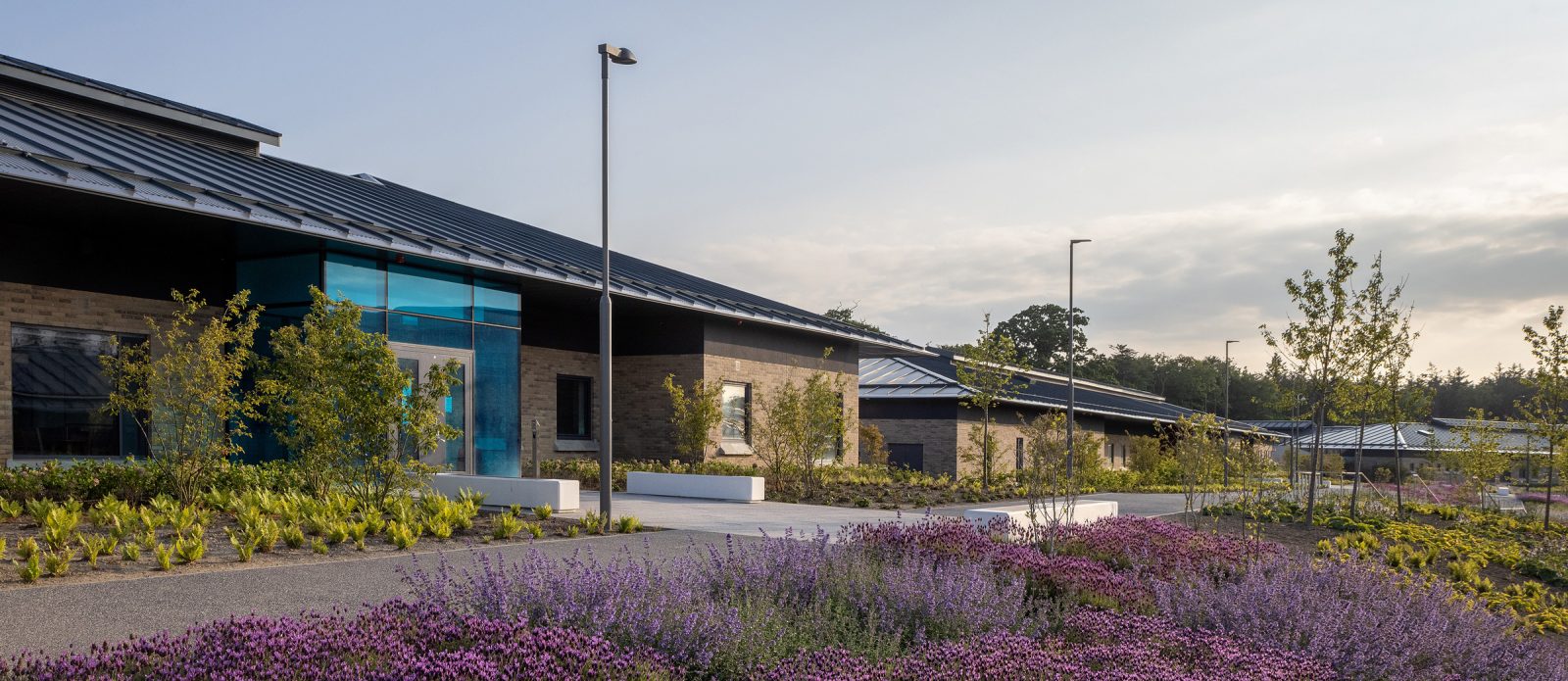 LOCATION:
Portrane, County Dublin, Ireland
CLIENT:
Health Service Executive Ireland
ROLE:
Specialist Mental Healthcare Architect to Scott Tallon Walker Architects
Heralding a new era in mental health services in Ireland, the new National Forensic Mental Health Service Hospital exploits the therapeutic value of nature in a discreetly secure setting which promotes the recovery of patients. The hospital is laid out as a series of single storey pavilion buildings around a pedestrianised 'village green' with a variety of spaces for meaningful activity. The arrangement achieves intuitive wayfinding through a site-wide narrative of colour, art, and landscaping.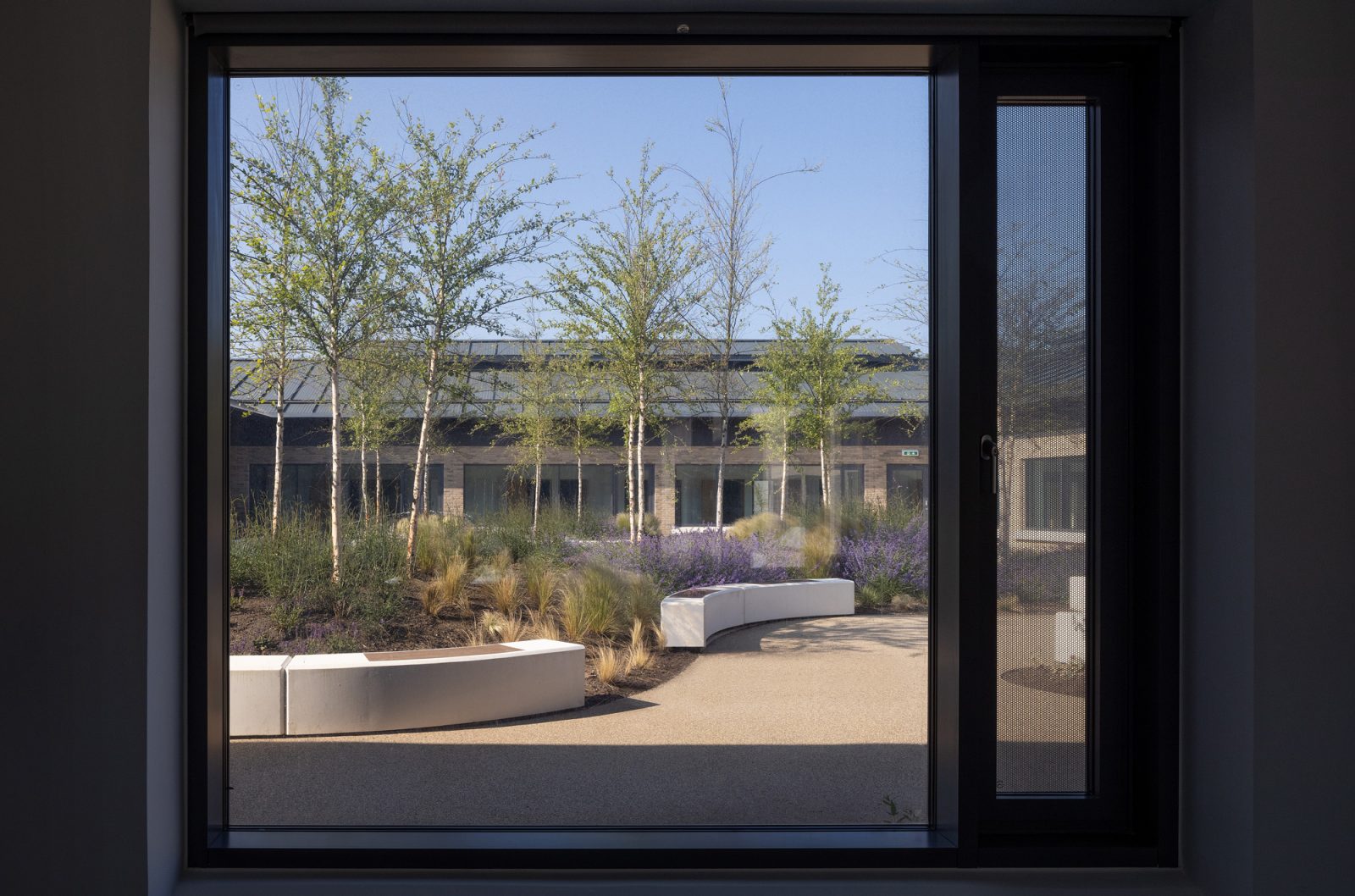 01
A normalised view of forensic mental health
Replacing the existing Central Mental Hospital — built in 1850 and one of the first secure mental health hospitals in Europe — the new campus has been designed to support new models of care, with the flexibility to adapt to future changes in service delivery. The hospital accommodates 170 high, medium, and low secure mental health beds with dedicated facilities for male adults, female adults, children and young people, and patients with learning disabilities.
With over 24,000m² of accommodation required, the hospital was conceived as a small village to break down the overall scale of development, creating a less intimidating and more normalised environment. Approached through an attractive public plaza, the civic entrance building provides a single gateway to the safe and secure campus. Incorporating high-ceilinged spaces, daylight, high quality materials and large-scale artwork, it provides a positive and reassuring first impression.
This new forensic hospital represents a huge step forward for this country and will help to ensure that our citizens are cared for in the best way possible.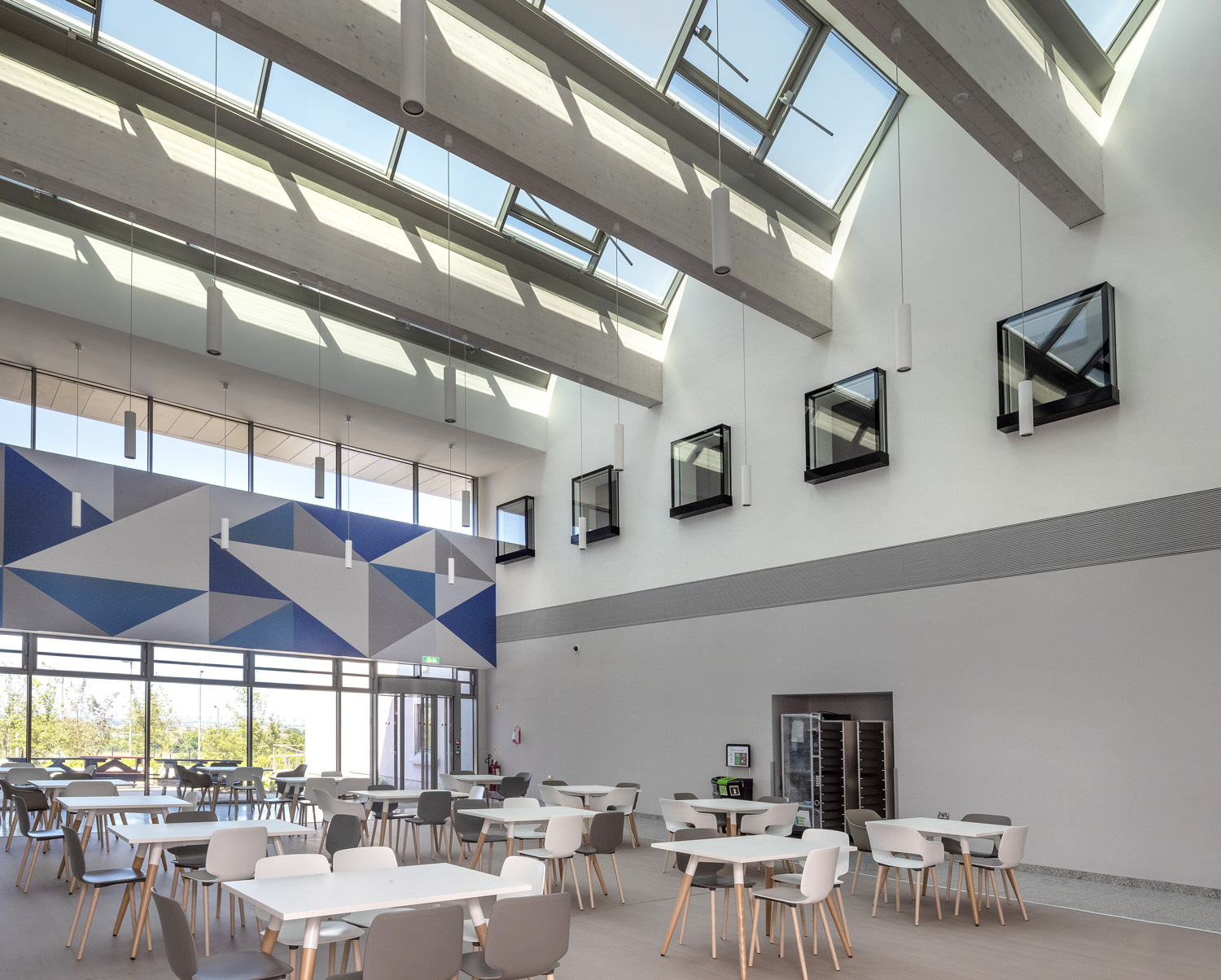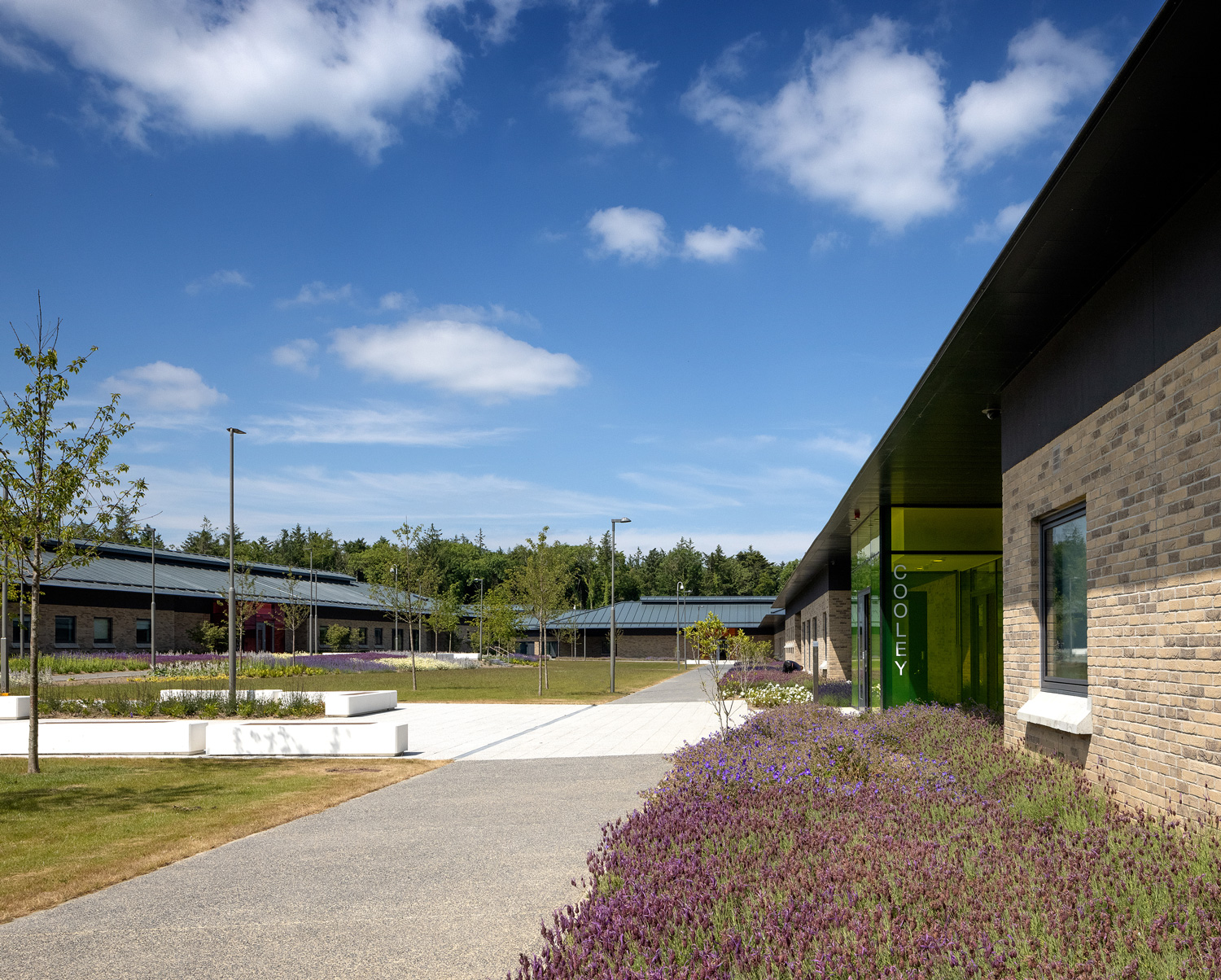 02
A therapeutic landscape for meaningful activity
Located in an attractive woodland setting, the hospital has been planned to promote social interaction and to provide opportunities for patients to engage with the world around them. The inpatient wards partially form a secure internal perimeter around a landscaped 'village green' that allows patients to access shared spaces more independently, in a normalised environment without secure fences. An accessible 'village centre', provides a focal point with shared spaces for sports, recreation, and therapy.
Each ward entrance has direct views to a natural landscape, creating a positive first impression. Generous glazing offers views into a series of internal courtyards and perimeter gardens, as well as providing abundant daylight and opportunities for passive observation. A large multi-functional space is located between paired wards, which provides an area for family visiting, and communal activities. Each building is carefully planned to maximise the safety, privacy, and dignity of individuals and patient groups.
The National Forensic Mental Healthcare Facility successfully creates a balance between a secure setting and a therapeutic care environment. While dealing with a challenging and complex brief, the scheme has been executed with great sensitivity which maximises light and the user's connection to nature at every opportunity.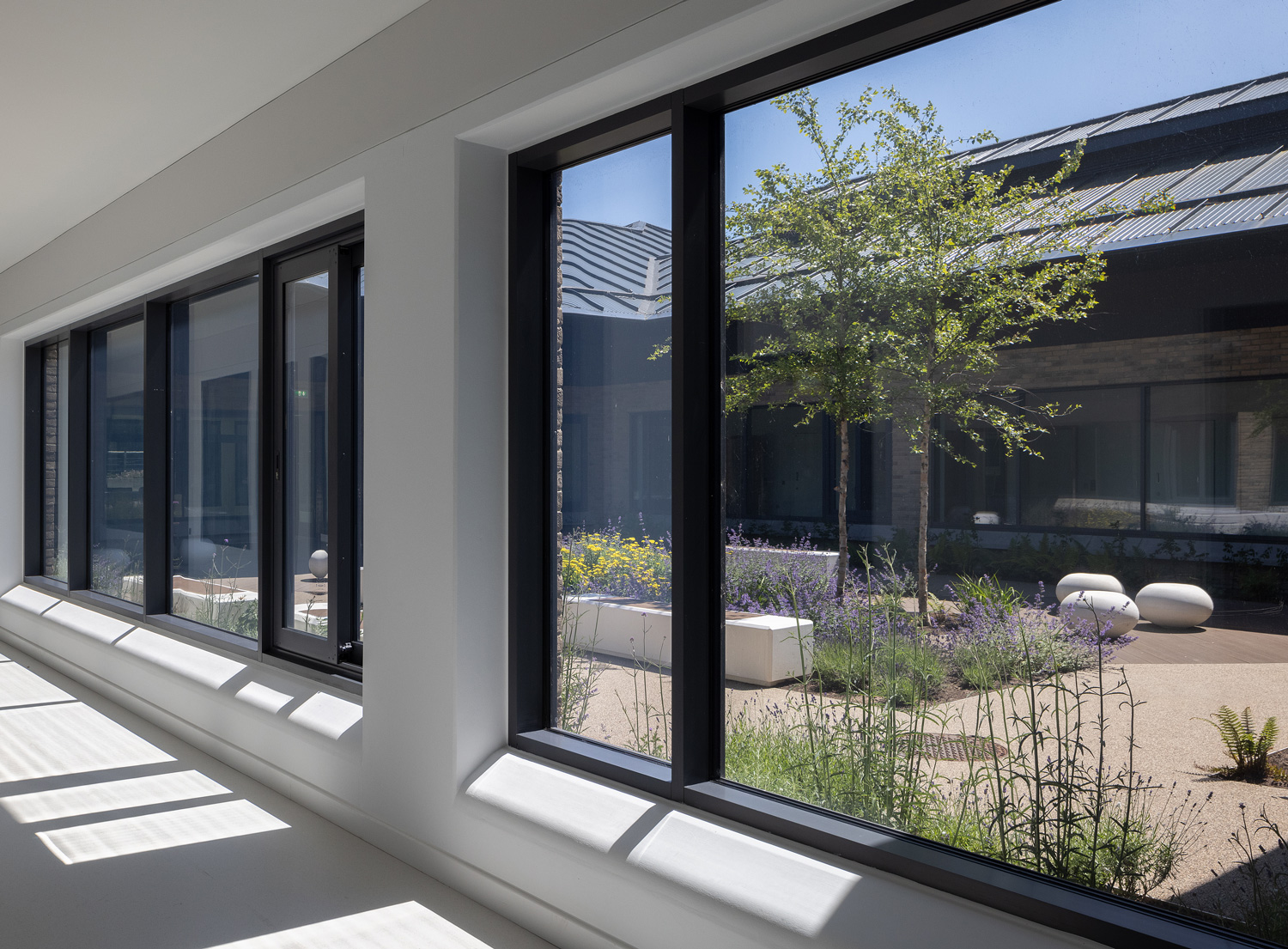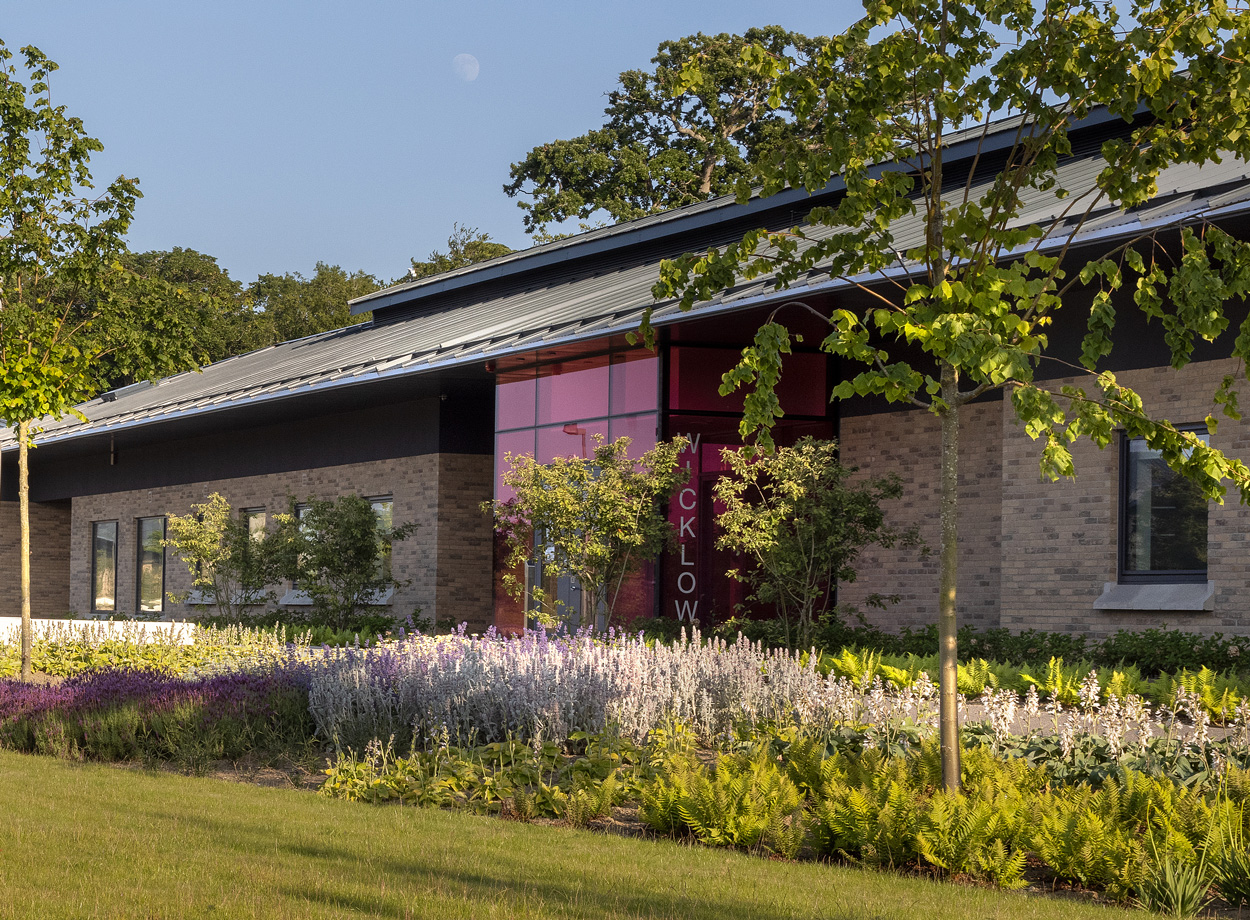 The perception of an institutional style mental health service, isolated and stigmatised from the rest of the community, is thankfully becoming a thing of the past. This new complex will provide an environment in which we can deliver a mental service which advocates recovery, for even the most complex mental health cases.
03
Discreet features for safety and security
The hospital design is informed by UK Department of Health's High Secure Building Design Guide. To reduce the overall mass of the inpatient buildings, the roof pitch is kept low with a large overhang. A dark coloured rendered band below the projecting eaves creates an apparent shadow line, reducing the perceived height of each elevation and creating the impression of a floating roof.
Wards are planned so that the admission of new patients, seclusion and 'back-of-house' functions can operate discretely away from day-to-day activity. This minimises alarm, disruption, and the reliance on staffing to prevent patients from potentially absconding. Tall, wide, daylit spaces are created in busy areas to reduce congestion and the potential 'pressure cooker' effect around the staff base. Interior spaces feature measures to reduce noise and resulting stress, through discreet integration of out-of-reach acoustic panels. A rigorous testing regime informed the selection of components and materials.
An exemplary project within its field, the design has maximised the potential of the brief and delivered a noteworthy scheme. From the wider scale campus layout to the individual courtyard dwellings, the design allows for connection, aesthetic quality, and a sense of community.
04
Enhancing the woodland setting
Regenerative design principles have been incorporated into the design to enhance the quality of the site's natural setting and support biodiversity. Stormwater is captured and distributed to an adjacent existing wetland. The wetland had dried out due to housing developments in the area and this strategy has helped to replenish the underground aquifer.
Woodland Management Plans ensured minimal disruption to existing woodland and the creation of new native woodland. The landscaping saw the planting of sacrificial crops for seed-eating farmland birds over the winter months, as well as the planting of new grassland. Nest boxes are integrated into the building to accommodate swifts, swallows, and bats.